GVX Consulting global - TECHNOLOGIES
Robotics Process Automation (RPA) & Artificial Intelligence (AI)
A bold statement that is backed.
Many companies interested in the benefits automation promises are looking at RPA and may have already started to develop their own RPA solutions.  RPA is a great technology but quite often is only part of the solution required to deliver the types of positive outcomes most clients seek.  We provide an entire automation platform together with the skill and expertise to make it work
By taking automation further we help future-proof our client's operations delivering measurable performance improvements that can simply perform better and more reliably then many other solutions available in the marketplace.  We do not expect clients to have sub-optimal experiences and are very passionate about getting it 100% right for our clients.
What are your priorities and where would you like to start?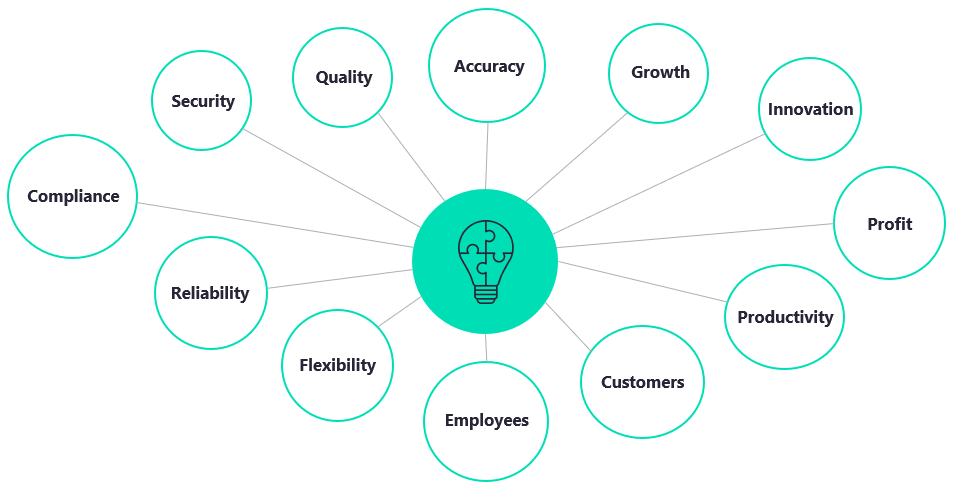 Typical processes suitable for automation by business department
Intelligent Automation - Overview
Our Intelligent Automation Platform (IAP) gives you the entire range of IA solutions in one robust fully managed environment.
Always reliable and constantly evolving to keep pace with technology changes … so you don't have to.
We have the experience to know how to make it work, the skill to execute on time, on budget and the depth of support required to make sure your business keeps moving positively towards greater and greater performance efficiencies, even whilst you may still be working out how to really get the most out of the solutions we are capable of delivering.

Some basic guidelines on process suitability for automation
Achieving the types of positive business outcomes you are seeking will be best achieved when the following guidelines are adhered to:
Initial Assessment
Once the candidate processes and desired outcomes have been identified then an initial high level assessment can be undertaken to categorise each process. We also offer more detailed automated analysis via our Process Discovery and Process Mining techniques.
Prerequisite Conditions
For a process to be considered a potential candidate for intelligent automation the process needs to be rules-based, the environment in which it is being performed needs to be stable and the data must be able to be structured to drive an efficient process. It should be noted the one of the key techniques to Intelligent Automation is the conversion of unstructured data into a structured format, by example, taking emails and any associated attachments included within the emails and transforming these into a structured standard format.
If a process exhibits these three characteristics then it is likely to be suitable for automation.
Rules-based process
Stable environment
Structured data
Good Candidates
If a process occurs infrequently and has very low volumes it is unlikely to be a good candidate process (unless there are other benefits to automating it e.g. accuracy, quality, business-critical reasons or out of hours performance etc …).
Good candidate processes have some volume and are typically repetitive with limited variation. If the frequency with which these processes are performed is variable and the business has peaks and troughs then automation is excellent at smoothing out and managing the workload. Examples of this would be "month end" activities or regular reporting requirements which place additional pressures on day to day operations during the normal business cycle.
Perfect Candidates
If a process can be performed out of normal business hours or if accuracy is really important then Intelligent Automation is ideal for these types of processes. If a process requires interaction with multiple systems or with a legacy business information system that does not support technical interfaces, then intelligent automation is perfect as it enables businesses to retrieve or enter information from and into the system without any technical integration. We literally train our virtual workers to read the screens and work within legacy applications and 3rd party software applications as required in the same way that a human would be able to do.
Designed for Enterprises
Designed for Enterprises
Profit from a solution developed specifically to meet the needs of your enterprise.
Using our robust API, you can integrate AutoIdent in a way that works best for your business and your customers. Moreover, AutoIdent can be seamlessly incorporated into multiple channels, includes mobile applications, Internet and physical locations, ensuring customer satisfaction.
Your own customer success team.
A dedicated account manager and a customer success manager, service professionals who support the optimal integration and utilization of our solutions.
Reliable, transparent delivery with SLAs.
Measured, reported and fulfilled.
Ready for a security audit at all times.
We have undergone and successfully passed hundreds of client security audits – and we are happy to be audited by your organization, too.
One-time API Integration.
Integrate our platform API just once and benefit from a comprehensive, seamless solution to all your identity verification needs.
Data analytics.
We provide you with a powerful reporting portal that can be tailored to your individual needs.
We provide a complete portfolio of operating models: full-service (including ident specialists), software-as-a-service and on-premise.
Prevent Fraud
Prevent Fraud
Ensure reliable onboarding and avoid financial and reputational damage.
We have market-leading technology for verifying the authenticity of documents and people's identity.
Ensure reliable onboarding and avoid financial and reputational damage.
We have market-leading technology for verifying the authenticity of documents and people's identity. 
Security checks using artificial intelligence – Best-in-class biometric checks and video-based liveness detection protect you from identity fraud.
Superior results through video-based technology – Our entire platform is built on video rather than still images. This means that all security checks are executed based on hundreds of images, rather than just a static image. This process results in absolute security.
Hybrid process: The best of humans & machines – Our human ident specialists assist in instances where intervention is required.
False Acceptance Rates
False Acceptance Rates
False acceptance rate (FAR) of just 0.05% – i.e. the proportion of idents the system reported as a success/authentic which were later revealed to be fraudulent. Meaning, the true positive rate (TPR) that the IDnow AutoIdent system reported as a true positive is 99.95%.
© Copyright GVX Consulting Global Ltd 2020